Getting the Right Auto Insurance Policy for You
Are you thinking about getting auto insurance in Texas? Here are some things to remember to get the right one for you.
Know the coverage you need.
The policy you should get must be suitable for the type of driver you are or even the type of car you are driving. As much as possible, you should have enough coverage for both property damage and injury liability. Keep in mind that basic coverage only provides minimal protection.
Know and compare rates from different agencies.
Plenty of companies offer auto insurance policies. They also offer varying rates for different coverages. Ask for insurance quotes from each of these providers to find out which one is best for your budget.
Choose a top-rated insurance agency in El Paso, Texas.
Choosing the best agency makes a lot of difference, especially during a claim. Any top-rated agency will ensure you have the right protection and process your claim as smoothly as possible.
Choose the right deductibles.
Once you know the coverage you need and find an insurance agent, you should set the right deductibles next. A higher deductible means a lower premium. But, this also means you will have to pay a higher out-of-pocket cost in case of an accident. Your choice will usually depend on your situation.
American Agency Insurance can provide you with customized protection with our auto insurance products. Call us today to get a quote!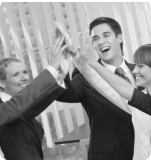 Our Mission
STATEMENT
About Us