Motorcycle Insurance Can Let You Drive with Confidence
A lot of people ride a motorcycle for various reasons. It is much smaller than a regular car, being only a two-wheeled vehicle. Therefore, the motorcycle driver can get to their destination faster since they can squeeze in and out from congested roads.
Riding a motorcycle can bring a sense of fun and excitement to some riders, not to mention the great feeling of traveling in open-air. Knowing that there are no limitations on what they can do on or off the road with their ride is also a thrilling experience.
On the flip side, riding a motorcycle is also risky and dangerous, especially if you don't know how to maneuver it with a certain degree of knowledge and skill. Additional factors can lead to a motorcycle accident such as other drivers, sudden change of weather conditions, and so son.
As an insurance agency in El Paso, Texas, we encourage licensed motorcyclists to invest in motorcycle insurance. In case of a motorcycle incident, their policy can cover injuries, property damages, and liability claims without much hurt to their finances.
If you want to know more about motorcycle insurance in Texas, please contact American Agency Insurance to speak to our dedicated representatives.
We also give free insurance quotes. Just fill out the form from our Free Quotes section.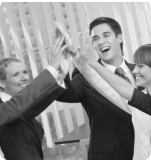 Our Mission
STATEMENT
About Us