Importance of Property and Liability Insurance
The goal of having property insurance in Texas is to secure your finances in case your property suffers damage due to an unforeseen incident. You only need to pay a certain amount to your insurer to get covered by the insurance plan and have peace of mind that if something happens to your property in the future, the policy can financially support you.
For instance, an earthquake causes a part of your home to collapse. Fixing the damages without insurance can most likely ruin your savings, let alone your budget. However, if you have partnered with an insurance agency in El Paso, Texas, you can ascertain that you have a financial backup. It can at least lessen your burden.
Property insurance often goes in perfect tandem with liability insurance. If there is an incident in your property that causes damage to your neighbor's property, you will pay a hefty price for that. But if you have liability insurance, your insurer will compensate most, if not all, of the claims.
American Agency Insurance provides free insurance quotes for our available insurance policies. To acquire them, you can visit our website and fill out a form. For more inquiries, you are also welcome to give us a call. We look forward to a great partnership with you!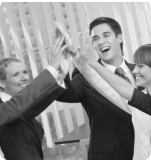 Our Mission
STATEMENT
About Us