Car Insurance Is Always a Good Investment
Owning a car helps you get to your desired destination. It's most useful when your house is far from your workplace because you don't have to spend time looking for transportation to get there. In other words, it's practical when you have your own means of transportation.
As a car owner, make it your responsibility to drive safely for the sake of you, your passengers, and the drivers around you. You must follow the traffic rules and ascertain that you don't get distracted while driving. Therefore, avoid drinking and using any gadgets while you're on the road.
However, accidents can still happen whether you're careful with your driving or not. Aside from getting injured, you're also going to be in a situation where you have to spend money. Mind you—it's not going to be cheap! Therefore, you must prepare yourself by getting in touch with a reliable insurance agency in El Paso, Texas.
Investing in insurance in Texas for your car can provide you with financial aid in case you encounter a car collision and damage. The policy can also cover bodily injuries for you and any persons involved in the accident.
To know more about car insurance and get insurance quotes, you can contact American Agency Insurance. We look forward to forming a great partnership with you!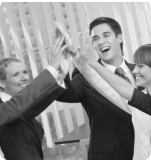 Our Mission
STATEMENT
About Us