Insurance: Importance and Options for Business Owners
Emergencies might be inevitable. But with the right preparation, you can save yourself and your business from a lot of trouble and additional expenses. Insurance coverage is the key. So before you launch your business, visit an insurance agency in El Paso, Texas to look at apt policies you can avail.
Why it's a must for business owners to have insurance coverage?
Running a business requires a fortune and a lot of effort. To ensure your capital goes to profitable projects, remove any risks that might entail unprofitable expense. If you're a hands-on entrepreneur, you should also keep yourself healthy all the time to manage your company effectively. In almost every way, having suitable coverage from a reputable provider of insurance in Texas is a wise decision.
What are the best ones you need to have?
However, choosing the right policy could be challenging, considering the wealth of options available on the market. It's a must to look at different insurance quotes to find the right one. To have all the basics, prioritize the following:
Auto insurance
Having auto coverage for your employees and yourself helps you save on costs during vehicular accidents, theft, and other similar events.
Home insurance
This covers costs on repairs and/or replacements of your home and belongings in events where they are damaged by fire and/or theft. The coverage for this type of insurance may also include accidental damage to other people's property or an injury within the premises of your home.
Commercial truck and motorcycle insurance
Trucks and other vehicles are useful for logistics. Hence, the need to keep these assets fully functional and available for use.
General liability insurance
This policy covers property damage and work-related injuries.
Do you think finding the right insurance policy could be overwhelming? If yes, ask help from experts. If you're in Texas, refer to American Agency Insurance. Experts there can connect you to reliable providers of the coverage you need.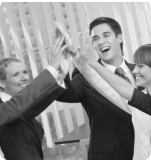 Our Mission
STATEMENT
About Us