What To Do Before Shopping for Business Insurance?
Starting a business requires a fortune for the capital. Add to that the effort and time you need to invest to bring your business to life. Now that it's out there, the next best thing to do is protect it. Partnering with financial consultants from a reliable insurance agency in El Paso, Texas is the best way to get started.
Risk assessment
Determine what your business needs. Do you have cars? Or do you have a brick-and-mortar office? Does your business operation involves activities that will compromise the physical safety of employees? If yes, a vehicle and office insurance in Texas might be a good choice. Opting for a package that also covers your employees is a wise move.
Assess your payment requirements and capacity.
Conduct a feasibility study and know your projected income in the next three, six, or twelve months. This will help you set a budget for your coverage. Remember, premiums need to be paid consistently, either monthly, quarterly, or annually. And you need to plan out the budget carefully.
Compare the costs and coverage.
Before signing any contract, be sure that you've allocated enough time shopping around. Compare different insurance quotes. Read the fine print of the coverage to know the inclusions in detail. Doing this helps you determine which coverage really addresses your business needs.
Find a licensed insurance agent.
Lastly, don't miss to avail of expert advice. Insurance agents know better. Look for a reliable one and spend time discussing the details of your business and the policy you'd like to have.
Availing of business insurance is a wise move. But you shouldn't sign up to just any coverage. If you're in Texas, it would help to ask guidance from the financial and insurance experts from American Agency Insurance first. Doing this helps you make better choices.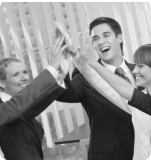 Our Mission
STATEMENT
About Us