Business Insurance Types You Need to Protect Your Company
The day you start your entrepreneurial journey is the day you also expose yourself to certain unpredictable situations and risks. Aside from protecting your health and life, you should now find ways to protect your business and stakeholders. And this could be such a challenging goal to pursue. One of the ways to get this done is to contact an insurance agency in El Paso, Texas to choose the right coverage for your business. Be sure to consider one or more of the following types to get all the basics covered:
Workers' Compensation Insurance
Find a provider of insurance in Texas that can give you a coverage for your hired workers. Employees need workplace safety and security. Providing them with financial support for medical treatment, death benefits, and disability can help you keep your top-performing employees.
Commercial Vehicle and Property Insurance
Your personal vehicles, commercial trucks, and delivery vans make the logistics a lot easier and faster. And to ensure your fleet are all in top shape, find insurance quotes that include coverage for vehicle checkup and maintenance. Also, look for coverage for your office to protect your premises from theft, arson, and other damages due to natural calamities.
Product and Professional Liability Insurance
Lastly, find coverage that will give you financial support for any product failures and mistakes due to negligence in operations. These would come in handy if you'll receive issues on product defects and quality complaints.
With these insurance types, you can protect three of your company's best assets – workers, products, and properties. By protecting these three assets, you can be assured that the company continues to operate for a long time. If you're now looking for an insurance expert, American Agency Insurance might be able to help.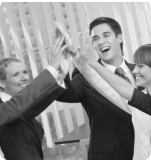 Our Mission
STATEMENT
About Us