Insurance Coverage for Home-Based Business
Are you looking forward to starting your hair salon, fitness gym, and daycare services at home? Or are you planning to open a clinic or a home-based office for your financial or real estate consulting service? If so and you're living in Texas, seeking professional help from an insurance agency in El Paso, Texas to know more about home-based business should be a priority.
Why Avail of Home Business Insurance
Like any other type of business, starting a home-based business requires capital for equipment, office furnishings, and other essential items. To protect your valuables, an apt insurance in Texas is a must. With comprehensive coverage, you're assured that you can claim for financial support in times of emergencies (e.g., theft, fire, and errors).
Home-Based Business Insurance Types and Coverage
The coverage depends on the insurance type you got. Specifically, the following are the common types you might want to consider:
Errors and Omissions – Financial damages or injuries due to bad advice or professional mistakes.
Workers' Compensation – The coverage you need if you have employees. This covers their work-related injuries and illnesses.
Commercial Property Insurance – Coverage for damages to your property and equipment.
Commercial General Liability – This insurance type covers property damage and third-party injuries, as well as claims on advertising injuries.
Homeowners Policy Endorsement – This is an add-on to your basic coverage, taking into account the existing homeowners' policy.
A home-based business could be a great source of income if you like to earn without compromising family time.
Before you avail of any of the policies above, gather different insurance quotes from different providers. Doing this helps you choose the best plan. Ideally, you should also seek guidance from the experts at American Agency Insurance to make a sound decision.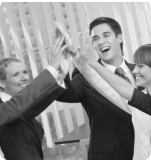 Our Mission
STATEMENT
About Us